Last Updated – 13 Nov 2020
In this article, I have reviewed the 11 best CC cream in India from all the available options in the market. Before moving to the list, first, check a few factors while choosing the best one for your face.
Things You Should Consider While Buying CC Cream in India
#1. Don't Use CC Creams as Moisturizers
CC creams, although some have moisturizing properties, but not every cream hydrates your skin. So if you are looking for using CC cream as moisturiser then sure about moisturising property of the cream.
#2. SPF
CC creams have Sun protection factor(SPF). If you live in places where summers get very harsh, get yourself a CC cream that can double as a sunscreen.
#3. Coverage
Most of the CC creams cover skin discolouration and fine lines. Some skin colours need more coverage for the look to feel natural.
#4. Skin Color Matching
CC creams come in three shades. Fair light, light medium and medium deep. Find the one that resembles your skin tone for a natural look.
Best CC Cream for Oily Skin in India 2020
#1. Physicians Formula Super CC+ Color-Correction + Care CC+ Cream

Physicians formula super cc cream is an anti ageing cream that has brighteners that restore a look of radiance and smoothness on your skin.
The cream also acts as a sunscreen as it helps against UVA and UVB rays from the sun. With medium weight, the cream has a uniform texture that is easy to spread with finger or brush. A small amount is enough for daily usage.
On application, the cc cream can last upto 8 hours before needing to retouch it. Physicians formula cream is free from parabens, mineral oils, gluten and is non comedogenic which means you can use it without any worries of allergies.
Pros
Anti ageing brighteners bled freckles and fine lines.
Uniform texture – easy to apply
Acts as a sunscreen
Hypoallergenic
Cons
Fragrance is not good
Tends to dry up
Best For: Sensitive skin and daily usage.
#2. Olay Total Effects Eye Brightening CC Cream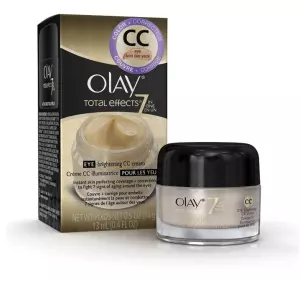 Olay total effects eye brightening CC cream aims to solve the problem of dark circles around the eyes. The cream hydrates the skin underneath the eyes and make them brighter.
Olay cream blend with the skin tone and also repairs the skin by deeply moisturising beneath the skin area. The shade of the cream is designed to blend in with the natural tone of your skin colour.
The cream is non greasy and light weight that offers good coverage and gets absorbed quickly. This makes it a good daily CC cream. It is also fragrance free which means there are no harmful chemicals that can affect your skin.
Pros
Moisturizes the skin
Brightens the skin
Fragrance free cream
Lightweight and non greasy texture.
Cons
Available in only one shade which is not suitable for all skin tones
Can be used to correct tones under the eyes as well
Best For: People with dry and sensitive skin.
#3. Max Factor CC Cream

The max factor CC cream is an intensive colour corrector having active ingredients that makes your skin brighter and evens out skin tone unevenness.
The cc cream also contains pigments that give more natural coverage after application. The cream is non comedogenic meaning it won't clog any skin pores.
Max factor CC cream has a long lasting formula long with touch proof system that enables the cream to stay and wont rub on clothes.
Pros
Long lasting upto 8 hours
Fragrance free – good for sensitive skin
Non comedogenic
Can be used with ot without foundation
Cons
Only available in light shade
Best For: All types of skin.
#4. L'Oréal Paris Visible Lift CC Cream, Light/ Medium 1.0

L'Oréal Paris Visible Lift CC cream is a multipurpose makeup cream that nourishes your skin and hydrates to give you soft and supple skin.
The cream has an intense moisturizing formula that works great for dry skin and makes your skin look brighter due to the presence of Vitamin C and calcium. It is suitable for ladies over 40.
L'Oréal CC cream lasts upto 4 to 5 hours if touch up is done after 2 or 3 hours of applying. The cream is lightweight and also protects from sun rays as well due to SPF.
Pros
Moisturizes and nourishes dry skin
Light weight cream
Evens out skin tones.
Lightens dark spots
Cons
Available only in 2 shades, light/medium and medium/deep
Not suitable for oily skin
Light shade is not prominent after application
Best For: Ladies with dry skin
Best cc Cream for Dry Skin in India 2020
#5. Lakmé 9 to 5 Complexion Care Face Cream


Lakme 9 to 5 complexion care face cream gives complete coverage and airbrushed makeup finish.
Upon application, Lakme CC cream conceals the skin tone irregularities and moisturizes your skin to give a soft and supple look. Lakme cream double as a sunscreen as well as a foundation.
The cream contains SPF 30 that protects from harmful UV rays. A small amount is enough to cover your whole face so it lasts longer as well.
Pros
Evens the skin tone
Moisturizes
Provides protection from UV rays
Travel friendly package
Cons
Makes skin oily
Thick texture
Best For: Normal and dry skin
#6. Etude House Correct & Care CC Cream Glow & Silky

Etude CC cream is an anti ageing, stress relief and hydrating cream that makes your skin glow and make it feel smooth. If you have oily skin, then you can opt for etude CC silky option. Or is you have dry skin, you can go for etude glow option.
The cream is white in colour and has a creamy texture. There are minute capsules in the cream that burst out that evens out the skin tones.
Etude CC cream does need blending activity to get a natural looking tone. It can last upto 5 hours.
Pros
Moisturizes skin
Blends well with the skin
long lasting
Cons
Best For: Oily as well as dry skin with light complexion.
#7. Pacifica Ultra CC Cream Radiant Foundation Natural/Medium

Ultra CC cream is a 10% vegan and cruelty free CC cream that is available in 2 shades namely warm/light and natural/medium. The cream is made up of natural minerals that reflect light adjusting to skin shade.
The cream consists of natural ingredients like coconut, kelp and ginseng that nourishes as well as hydrates your skin.
With SPF of 17, it also acts as a light sunscreen to protect your skin from UVA and UVB rays. Ultra CC cream has no parabens and other harmful chemicals that can cause irritation.
Pros
Vegan and cruelty free
Available in 2 shades
Contains natural ingredients
No parabens
Cons
Coverage is not that great
Best For: Dry and sensitive skin.
#8. Erborian Cc Cream High Definition Radiance Cream

Erborinan CC cream is a lightweight cream that has a hydrating formula which moisturizes your skin to make it soft and supple.
Centella asiatica is an ingredient present in the cream that helps improve skin elasticity that is useful in eliminating fine lines. The cream is light and has even texture and good coverage that is enough to cover skin tone unevenness.
The cream is suitable for retouch after a few hours as well as it does not rub off. So you are able to retouch and build on it. It also has an SPF of 25 so it does offer protection against sun as well.
Pros
Hydrates the skin
Increases skin elasticity
Acts as a sunscreen
Cons
Best For: Individuals with dry skin.
Best CC Cream for Acne-Prone Skin in India 2020
#9. La Roche-Posay Rosaliac CC Cream SPF 30

La Roche-Posay's Rosaliac CC Cream has a consistent light texture. It reduces redness on application and also protects against sun as it contains SPF 30.
On applying the cream has a soothing effect. It gets absorbed quickly and provides correct correction against uneven redness with the help of naturally derived ambophenol and creates an even tone.
Pros
Consistent texture – easy to apply
Reduces redness
Convenient dispense mechanism
Cons
The fragrance lasts longer period of time
Not effective if you have very fair complexion
Best For: All types of skin
#10. Lotus Makeup Ecostay Cc Complete Care Illuminating Crèam Spf 30

Lotus is a lightweight cream with reflecting particles present in it that adds instant radiation to your skin after application.
Since it's a lightweight cream, you can use it on a daily basis. With SPF 30, it also doubles as a sunscreen to protect you from UVA and UVB radiation. The cream is non comedogenic and safe on sensitive skins.
It also helps in hiding imperfections in skin tones and dark spots. It enhances your skin texture on daily usage to make your skin look bright and younger.
Pros
Non oily texture
Easily blends
Non comedogenic
Hydrates your skin
Cons
Available in only one shade
Best For: Best for dry and sensitive skin.
Best Drugstore CC Cream in India 2020
#11. Essence All-In-One CC Cream Clear & Correct 10 Natural SPF-30

Essence all in one CC cream is a single shade cream that is suitable for most of the Asian skin tones. The cream is lightweight and has a creamy texture.
Essence CC cream offers buildable coverage and gives you a smooth finish. The cream adds glow to your skin by hiding minor imperfections in your skin tone.
Once applied, the cream stays for 5 to 6 hours and do not oxidize therefore staying bright for longer periods.
Pros
Long lasting
smooth finish
Suits all types of skin tones
Cons
Does not conceal big imperfections.
Best For: Daily use for dull skin.
Conclusion
If you are looking for a daily use CC cream, then Max Factor CC cream is an economical yet effective choice.
On the other hand, if you have dry skin then Lotus Makeup Ecostay CC Complete Care is a good choice as it acts as a great moisturizer along with sun protection.