Last updated – 3rd Jan 2022
In this article, I have reviewed 11 best day cream in India from all the available options in the market. Before moving to the list, first, check a few factors while choosing the best one for your skin.
Things You Should Consider While Buying Best Day Cream in India
Know Your Skin:
Dry Skin: For dry skin, look for hydrating ingredients like glycerine in the cream.
Normal Skin: individuals with Normal skin find dryness on cheeks and overall dryness is subtle compared to dry skin. So a light moisturizer is usually sufficient for normal skin types.
Oily Skin: If you have oily skin, it can cause skin pores to clog up. A delicate physical exfoliator helps to remove dead cells before applying a moisturizer.
Sensitive Skin: use natural and organic products. If you can not find one with herbal ingredients, avoid byung creams with parabens, artificial fragrances, mineral oil, sulphates which tend to trigger allergies.
SPF: SPF safe your skin from harmful UV sun rays along with avoid fine lines and wrinkles.
Best Day Cream for Oily Skin in India 2022
#1. Forest Essentials Pure Aloe Vera Light Hydrating Gel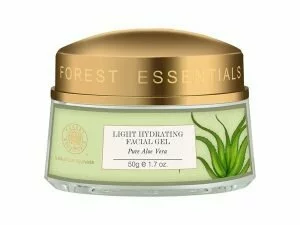 Forest essential is a light hydrating face gel that contains pure aloe vera juice. This is suitable for very oily skins. If you don't want day creams that feel heavy, you can use this to moisturize your oily skin.
Aloe vera in the gel helps soothe and heal your skin. Wheat germ and ghenu extracts are infused into aloe vera. Ghenu rejuvenates your skin by stimulating regeneration exfoliating the dull skin.
Ashwagandha in the gel has antioxidant which reduces free radical generation that can damage the skin. It also stimulates the immune system preventing skin infections.
Pros
Moisturising without making skin look oily
Has anti ageing ingredients
Little amount is enough to cover the face
Cons
Non hygienic tub container
Costly
Best For: Dull and oily skin.
#2. Pond's Light Moisturiser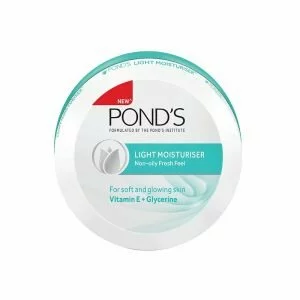 Ponds light moisturizer is a non sticky, non oily light cream which gives you a non oily fresh glow. With infused glycerine, it gives your skin softness, smoothness and radiance to your skin.
Enriched with vitamin E that helps moisturize your skin, vitamin B3 and vitamin C to enhance skin renewal process to give an even tone bright skin. The cream has SPF 15 to protect your skin from harsh UV rays from the sun.
Ponds moisturizer is formulated to be non sticky and has a uniform texture that can spread easily and gets absorbed quickly making it convenient to use everyday for a healthy moisturized skin.
Pros
Non oily and non sticky
Lightweight texture
Moisturizes and nourishes the skin
Cons
Lot of users have complained about the product looking like a duplicate one. Buy from a good seller.
Best For: All types of skin for everyday use.
Also read – Best Night Cream in India
Best Day Cream for Dry Skin in India 2022
#3. Lotus Herbals Nutramoist Skin Renewal Daily Moisturising Creme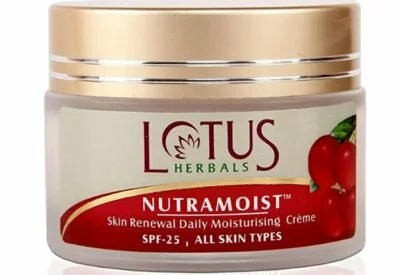 Lotus herbals moisturizer cream is good for both dry and normal skin. Lotus contains ample amounts of moisturizing agents in it.
The cream has alpha hydroxy fruit acid from grapes that act as a natural antioxidant preventing generation of free radicals thereby making skin look younger.
The cream has a soft yet consistent texture which is important for spreading uniformly across your skin.
Lotus cream is non sticky and a small quantity is enough for regular day to day usage so it lasts longer. Due to its intense moisturizing formula, it works very well during winter if you have dry skin.
Pros
Non sticky and consistent texture
Intense moisturizing and rejuvenation of skin.
SPF of 25, protection from the sun
Pleasant fragrance
Cons
Not for oily skin
Tub design is unhygienic
Best For: Dull and very dry skin.
#4. Cetaphil Dam Daily Advanvce Ultra Hydrating Lotion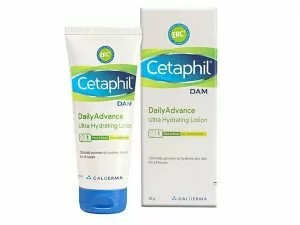 Cetaphil dam is an everyday moisturizer for sensitive and dry skin. It is a fragrance less and non comedogenic cream, meaning it does not cover up pores on the skin.
The cream contains a unique combination of 5 ingredients called ERC-5(epidermal replenishing complex) that help relieve dry, sensitive skin feeling nourished and healthy.
Cetaphil cream has a non greasy formula with pH balance that gives you moisturization for 24 hours. It is a very effective cream for those who work all day under air conditioning that takes away the moisture from the skin.
Pros
Moisturizes and nourishes the skin.
Non comedogenic
Long lasting moisturization
Non greasy formula
Small quantity is sufficient
Cons
Some users have complained that it has caused irritation
Best For: People with dry skin and who work in AC environment
Also read – Best BB cream in India
Best Day Cream for Combination Skin in India 2022
#5. Lakme Absolute Skin Gloss Gel Creme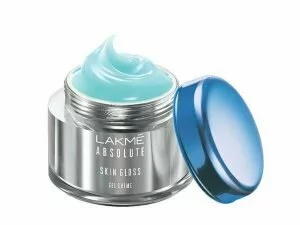 Lakme absolute skin gloss creme has a texture that is in between a cream and a gel, this is ideal for those who find normal cream texture to be heavy for everyday application.
Lakme gel cream hydrates the skin and with daily use, it rejuvenates your dull skin to give a glowing look. Along with moisturising, the cream coats a shiny gloss over your skin that has a cooling effect.
You will get good moisturising form the cream without looking oily. If you have a combination skin, meaning if your face has dry spots and oily parts on your face lakme cream ensures that you get a uniform look all around.
Pros
Convenient texture for all seasons
Glossy look on regular usage
Suitable for combination skin types.
Cons
Costly
Check for a good seller as there are counterfeits on amazon
Best For: Everyday usage for combination skin.
#6. Plum Sheer Matte Day Cream SPF50, Chamomile and White Tea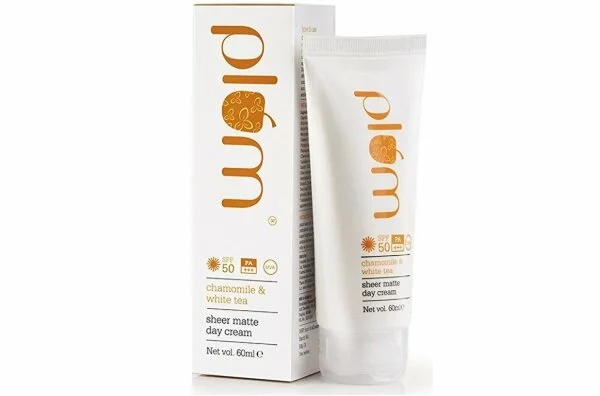 Plum sheer matte day cream has a very high SPF of 50 PA++ and also suitable for combination type of skin. It provides a 6 hour matte finish for your face eliminating the oily look.
With the SPF 50, it has a micro emulsion form which makes the cream not so heavy and easy to apply. The cream is a good option for your skin if you get sunburned after long exposure to sun.
Chamomile in the cream helps in soothing the skin when skin is exposed to the sun. white tea extracts that is high in antioxidants, helps the skin from oxidative damage from the sun.
Ginkgo in the cream has an anti ageing property and helps in healing wrinkles and fine lines on the skin.
Pros
Paraben free
Excellent protection from sun
Suitable for combination skin type
Matte look
Pleasant fragrance
Cons
The texture makes time consuming to apply
Best For: Sensitive skin that gets sunburned easily
Check out – Best Cream for Pimples
Best Day Cream with SPF for Oily Skin in India 2022
#7. POND'S Sun Protect Non-Oily Sunscreen SPF 30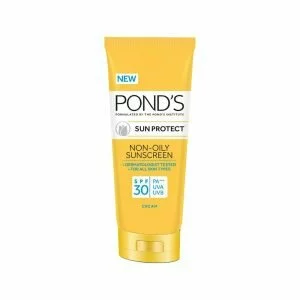 Ponds, with its dermatologically tested SPF 30pa++, is 30 times more effective in protecting your skin from sun than when you are not wearing the cream. The cream still manages to be non oily even with SPF 30 formula.
Ponds claims the cream protects your skin from UV-a and UV b rays. The cream has a light scent to it. You can apply it 30 minutes before you head out in the sun.
Pros
Non oily texture
Complete protection from sun
Available in multiple SPF formula(SPF 30, SPF 50)
Hypoallergenic
Unisex – can be used by men and women
Does not clog skin pores.
Cons
Best For: Skin protection during summer.
Best Day Cream for Acne Prone Skin in India 2022
#8. Garnier Men Power White Fairness Moisturiser SPF 15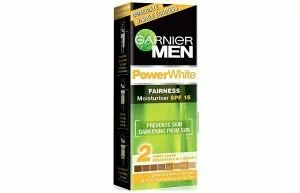 Garnier men fairness moisturizer is a everyday day cream that aims to moisturize your skin along with reducing dark spots on your face.
With lemon extract, it removes the dead cells from the skin and cleanses the skin from pollutants giving your skin a fresh look. It also has SPF 15 to protect you from the harsh UV rays of the sun.
Along with that, the cream is also helpful for acne prone skin to reduce acne upon long periods of usage. Applying it twice a day after face wash gives you better results.
Pros
Prevent dark spots
Light formula,cream does not feel heavy to apply
Cons
SPF 15 may not be enough if you live in harsh summer conditions.
Best For: Acne prone dry skin
#9. Mamaearth Oil-Free Moisturizer For Face With Apple Cider Vinegar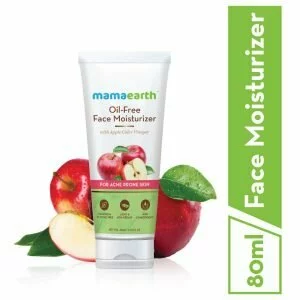 The oil free face moisturizer is a quality product that aims to prevent acne and pimples. The cream is non comedogenic meaning it won't clog the pores of your skin after application.
With it's non greasy formula, the cream gives you moisturization without having that oily look. Along with fighting acne, it specialized formula prevents a new from reoccurring.
The cream is free from harmful chemicals like paraben, mineral oil, petroleum, artificial fragrances and preservatives.
Pros
Gives you the non oily look even in summers
Non greasy and has a Matte look
Cons
Some users have complained about acne after application of the cream.
Best For:acne prone and dry skin during summer
Also read – Best CC Creams in India
Best Day Cream for Normal Skin in India 2022
#10. Nivea Men Dark Spot Reduction Moisturiser SPF 30

Nivea men dark spot reduction moisturizer is a non sticky, good smelling cream that helps in moisturizing your face along with reducing dark spots and making your skin healthy.
Nivea cream contains a whitanat vita complex that includes 10 nutrients including vitamin C, licorice, vitamin E, ginkgo leaf extracts that help in rejuvenating your skin to make it look bright and clear.
Pros
Brightens the skin
Reduces dark spots
UC filter to protect from sun
Cons
Feels Oily during very hot summer
Best For: Dull and oily skin
#11. Nivea Crème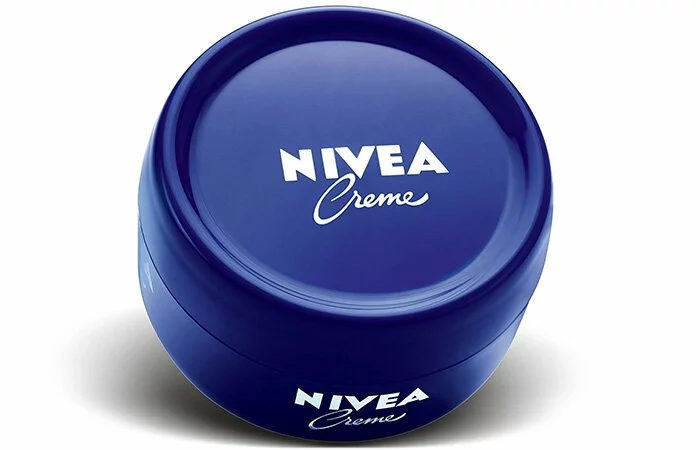 Nivea is a gender neutral cream for those with dry or very dry skin.
Nivea cream creates a layer after applying it on the skin that protects your skin from heat, pollution and humidity. It also locks in the moisture within the skin to keep skin soft and smooth.
The cream is dermatologically tested to be safe for use. You can also use it on your elbows, heels and even chapped lips during winter.
Pros
Works very well on dry skin.
Travel-friendly packaging
Small quantity is enough for everyday use.
Cons
Not good for oily skin
Generous application of the cream leads to a greasy look
Unhygienic tub packaging.
Best For: Regular use on dry skin
Conclusion
If you are looking for an herbal face cream then lotus herbal nutramoist cream is a good best for you.
For your everyday moisturizing needs, nivea creme does the job if you have normal skin. But if you have oily skin, Forest essential pure aloe vera provides you with moisturization without the oily look.